August 3rd
Summer is great. Lots of time on the beach and in the water. Both girls are fond of water. Granny has a nice big pool and when aunt Patty and Wesley are there, its time for a pool party.

Granny's pool
Summer had a development test to. She did very well. Only the part of taking cubes out of a drinking cup. She didn't get that. A cup? thats for drinking. So you attack that with your mouth wide open.
She's trying to crawl. She sits on all four waiting for the sign to go. But for some strange reason that sign doesn't come. But she's sitting all alone now.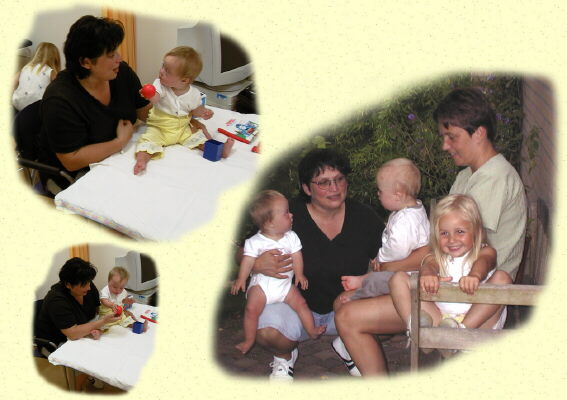 The test.....give me the ball....thank you.....and after that...lets visit little Rick
It's vacation time. Our friends in Enschede just bought 2 pony's and a piece of land. It's great there and Merel really loves horses and her friend Ryan so a great oppurtunity to visit them for a couple of days.
Great, walking in the forest and mounting a horse for the first time.
To feed the horses a neighbouring farmer offered us some hay. We only had to harvest it.....Only???
The farmer put me on the tractor and my friend had to do the hard labour. About 300 piles of hay.
The kids had a great time.