March 4th
Two weeks past away. How time flies.
First the medical items. A visit to the ear-doctor. She would give us advise about the test that was done before. Nothing new , she asked us about the results of the test. Maybe she had no time to read her file. So after a very short visit we decided to go to another doctor, one of the Down-team. He's more known with kids with Down's.
At home we've been very busy. Lots of visitors been by and we have made some visits. I like it but it's rather busy.
First the sleep-over of Lizzie and Iris, children of friends. In one flash we ware a family with four kids. And that turns some heads around when you go shopping.

left to right: Kyran and Summer, Summer, Merel and Jeffrey and Isis with Summer.
Then we went to Esther, a collegua of mums. She moved to a new house. After that the next Ester. An ex-collegue of mums. She has had a little boy named Jeffrey. That was nice too.
And las but not least we went for a visit to Kyran and his family. Kyran is a 2 hour drive away, and thats a lot in this little country.
But it was worth while. We met Kyran the first time at the research (thyroxin trial). His mum and dad and aunt allready contacted us through the website and that contact went great. After his grandma and grandad wrote us a very sweet letter, we had to visit them sometime. And today was the day.
Merel had a nice day to. Kyran has a sister named Esmee. She's almost 4. So a nice play pal.
When we sat there, drinking a nice cup, a problem came up.
Kyran's mum was a bit disappointed that Rick, by intervention from his mum, allready asked for Summer's hand in wedlock. I really don't know what to do now. Another candidate son-in-law. And again such a nice guy. Well, I don't know how to solve this at this moment. I think I let Summer decide for herself in ......20......30 years time.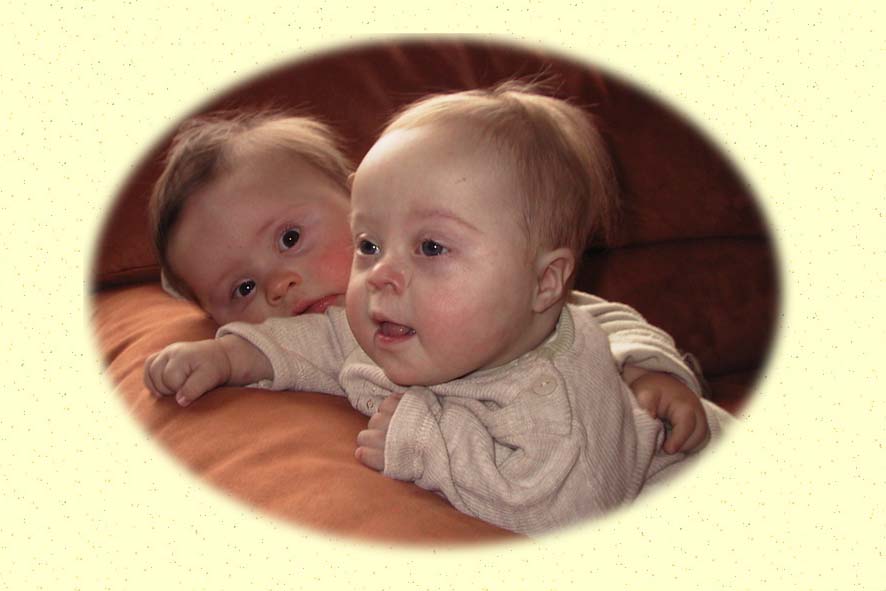 If they ever get married? That's still a questionmark. But they're allready friends for sure.